ABDR Releases 2017 Report Today
February 5, 2019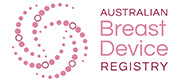 Report renews calls for surgeons to opt-in to registry tracking breast implant safety
Monash University researchers are renewing calls for all Australian surgeons who implant or remove breast devices to contribute to a national registry that tracks and monitors the safety of breast implants.
The call comes as the Australian Breast Device Registry (ABDR) releases the 2017 annual report which revealed that new patients in the registry had nearly doubled over a 12-month period.
But all doctors performing breast device surgeries are required to participate in the registry in order to capture a complete snapshot of patient outcomes for all breast device surgeries in Australia. Women are encouraged to choose a surgeon who will include details of their device on the registry.
Every year an estimated 20,000 Australian women have breast implants inserted for augmentation, following a mastectomy or to correct developmental deformities.
Dr Ingrid Hopper, who leads the Commonwealth funded ABDR at Monash University, said it was critical that all Australian surgeons performing breast device surgery participate for the registry to identify problems with breast devices and provide feedback to improve patient safety.
"Data provided by all surgeons inserting and removing breast devices is necessary for the ABDR to monitor device safety and ascertain optimal surgical techniques," said Dr Hopper.
The independent registry produces anonymised reports on breast devices – breast implants, breast tissue expanders and acellular dermal mesh – and is now a primary point of contact for reporting a rare form of cancer of the immune system called Breast Implant Associated Anaplastic Large Cell Lymphoma (BIA-ALCL) in Australia.
Dr Hopper said recent cases of ALCL worldwide further underscores a need to monitor implanted breast devices to detect rare and unanticipated complications.
"The ABDR tracks implants and facilitates direct communication with patients via health service providers if there is ever a hazard alert issued by the Australian regulator, the Therapeutic Goods Administration," said Dr Hopper.
Currently, more than 36,000 patients are included in the opt-out registry, supported by data contributed by more than 460 surgeons. Three medical professional groups: plastic and reconstructive, cosmetic and general breast surgeons endorse the ABDR.
Dr Hopper cautioned that the 41% growth in the number of procedures submitted to the registry during 2017 was not a national snapshot. She said future ABDR reports would include a greater number of procedures for analysis as more surgeons participate and the registry data matures.
The report found that from March 2012 – December 2017:
Less than 1% of patients chose to opt-out of the registry
65% of breast device surgery took place in a private overnight facility, 31% in a private same day facility and 5% in a public hospital
Of the 25,386 patients in the registry: 75% had cosmetic augmentation; 15% post cancer reconstruction; 4% risk reducing reconstruction and 3% to correct a developmental deformity
The average age of patients undergoing cosmetic augmentation was 34 years; post cancer breast reconstruction 52 years; risk-reducing reconstruction 43 years and correction of a developmental deformity 29 years
The most common cause of revision was device malposition and capsular contracture
The full report can be viewed here.
LAST UPDATED 10.10.2019