ABDR: A 2019 overview
December 31, 2019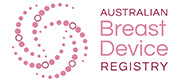 New milestones for leading breast device registry – a summary of 2019
This year was the biggest and busiest year of the Australian Breast Device Registry (ABDR) yet. By mid-December 2019, more than 46,500 Australians were registered in the ABDR, helping to track and monitor the long-term safety of breast devices and identify best patient health outcomes.  This is up by more than 11,000 at the same time last year. The number of surgeons contributing to this important health initiative increased to 523, across 287 hospitals and day surgeries nationally.
We published two annual reports, detailing demographics, procedure and device details, surgical techniques, complications and revision incidence for patients with breast devices enrolled in the registry.  Hundreds of surgeons received an individual report on their contribution to the registry, feeding back the most comprehensive snapshot of their work to date. The report included the type of surgery, reason for procedure and revisions, intraoperative techniques and type of devices used.   Most recently, the team provided a summary report to contributing sites.
Members of the ABDR team authored or were co-authors to several peer reviewed papers this year, with more in the pipeline.
Breast device safety came under scrutiny as Australia's device regulator, the Therapeutics Goods Administration announced in September, regulatory action on all breast implants and tissue expanders sold in Australia.  Patients were advised to contact their surgeons for any concerns and questions about their device and/or surgery related issues. Links to the TGA announcements and educational materials are on our front page here (scroll down if necessary).
Several members of the team presented on the ABDR at a variety of research, health education and advocate forums, including Pink Hope, BCNA, Think Pink, peri-operative nurse in-services and training seminars and specialised surgical educational events.  Our team collaborated with surgical trainees from supporting craft groups to present the ABDR to their peers. The feedback from all these events was very positive.
The PROMs (Patient Reported Outcome Measures) team collate data on how patients reported the look and feel of their breast implants. Next year, ABDR team member Michelle, will be undertaking a PhD project to further understand how PROMS can be used to assess breast device performance.
We farewelled our long-term registry co-ordinator Catherine Mulvany and welcomed new members to the team, including project officers Judy and Eva, database manager Saeid, and newly appointed research manager Pragya.  A highlight for the team has been the opportunity to watch breast device surgery in person.
On behalf of the ABDR team, we thank our clinical leads and members of our steering committee for giving their valuable time to the registry this year, contributing sites and surgeons who are supporting best practice and patient safety, consumer and health groups for supporting our work and to the tens of thousands of Australian patients in the registry who are helping the ABDR deliver a high-quality registry service that benefits the community.
We look forward to reaching new milestones in 2020.