ABDR Releases 2018 Report Today
October 28, 2019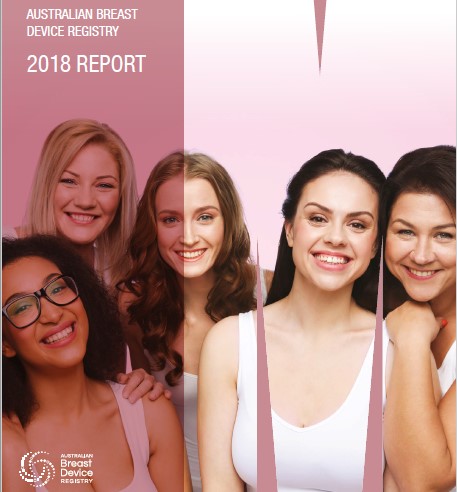 Australian Breast Device Registry releases 2018 Annual Report
The Australian Breast Device Registry (ABDR) today released their Annual Report, detailing 3,544 reconstructive and 9,337 aesthetic procedures performed in public and private hospitals during 2018 and a total 10,762 reconstructive and 29,206 aesthetic procedures between 2012 – 2018.
The report breaks down demographics, procedure and device details, surgical technique, complications and revision incidence on data from 37,000 people with breast devices – breast implants, tissue expanders and acellular dermal mesh – enrolled in the registry.
The Commonwealth funded ABDR was established in 2015 with the purpose to monitor the safety of devices and improve and maintain quality of care for breast device recipients. Information on breast implants in this report was collected from 78% of hospitals and day surgeries in Australia undertaking breast device procedures between the pilot rollout in 2012 until December 2018.
It is anticipated that capture rate and data will be closer to national representation in the 2019 reporting period.
The ABDR is a world-leading registry service led by Monash University, with the support of Australian Society of Plastic Surgeons (ASPS), Australasian College of Cosmetic Surgery (ACCS), Breast Surgeons of Australia and New Zealand Inc. (BreastSurgANZ) and the Therapeutic Goods Administration (TGA).
ABDR Project Lead at Monash University Dr Ingrid Hopper, said the registry would not be possible without the commitment from surgeons, nurses and health care staff and their patients.
"We look forward to continuing to work with surgeons to deliver quality registry services that benefit surgeons, health care facilities and Australian patients," said Dr Hopper.
As at December 2018, the ABDR had collected data on 37,603 patients having 41,921 procedures involving 78,024 devices. Australia-wide, 514 surgeons operating at 280 hospitals and day surgeries had contributed data. Only 1.1% of patients chose to opt out of participating in the ABDR.
Key findings and highlights from the 2018 Annual Report:
The format of the 2018 report has been updated to report reconstructive and aesthetic procedures in separate sections, including more detailed analysis for each cohort.
National rollout of the registry was nearing completion in 2018 with all eligible sites and surgeons having been approached. The registry has now progressed to a maintenance phase.
The total number of procedures captured by ABDR in 2018 was 13,718, including 3,544 reconstructive and 9,337 aesthetic procedures.
At the end of 2018, 37,603 patients had procedures captured by the ABDR, an addition of 11,990 in 2018.
The ABDR 2018 data capture rate for implant procedures was 74%, ascertained from sales data provided by the Therapeutic Goods Administration (up from 65% in 2017 and 44 % in 2016).
Collection of PROMs was rolled out nationally, showing at 1-year follow up a 78% response rate in patients with breast reconstruction, and 61% response rate in patients with breast augmentation.
The ABDR released individualised, activity-based surgeon reports and individualised case ascertainment site reports for the first time in 2018.
Download a copy of the report and infographic summary here.