ABDR releases 2021 Annual Report & #18 Newsletter
December 19, 2022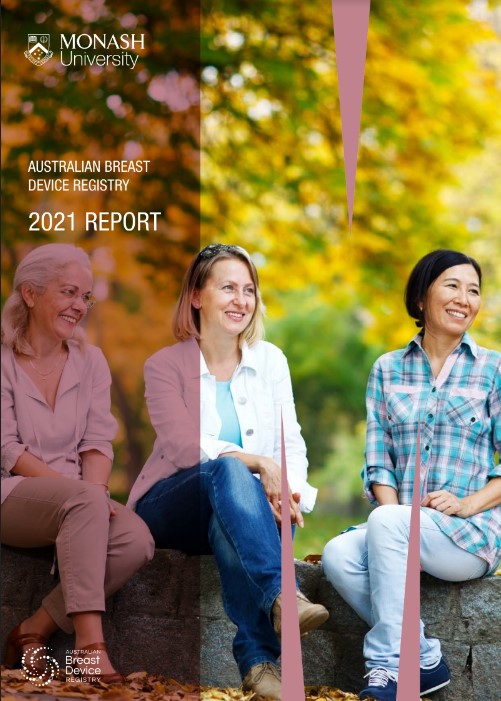 Australian Breast Device Registry (ABDR) Releases 2021 Annual Report
The Australian Breast Device Registry team is pleased to release its 2021 Annual Report.
The registry has been funded from the Commonwealth Department of Health since 2015 with the purpose to track the performance of devices over time, and to drive improvements of quality of care and outcomes for breast device recipients.
Highlights
The 2021 ABDR Annual Report provides the most comprehensive record of breast device surgery in Australia to date, involving 75,336 patients, 86,040 procedures and 148,529 devices (breast implants, tissue expanders and dermal matrices).
By 2021, 552 surgeons across 305 sites (hospitals and day surgeries) contributed data to the ABDR, enabling it to report on current and emerging trends in breast device practices occurring in private and public health facilities
Notwithstanding the ongoing COVID pandemic, 12,303 new patients (similar to the previous year), 14,384 procedures and 23,500 devices were added to the ABDR during 2021
Compared to sales data provided to the TGA, the ABDR captured 94% of breast devices sold in Australia in 2021
The very low number of patients opting out of the registry, at 1%, is unchanged
About reconstructive surgery in Australia
Reconstructive surgeries include breast cancer and risk-reducing procedures, and to correct developmental anomalies.
Of 75,336 patients in the ABDR, 15.3% were included for post-cancer reconstruction, 3.3% for risk-reducing reconstruction; and 2.2% for correction of developmental anomaly between 2012 – 2021
In 2021, 68% of implants were smooth and 32% textured
Direct to Implant surgery (DTI) comprised 62% of procedures in 2021 (48% in 2016), while two-stage (tissue expander then implant) was 38% (52% in 2016)
Revision rate at six years was higher for reconstructive implants associated with matrix use compared to those without; and was higher for DTI reconstructive procedures compared to two stage procedures
Of the complications associated with revision surgery and/or explantation, the most common were capsular contracture, device malposition, and device rupture
All cause revision rates at six years for reconstructive procedures were highest for polyurethane implants, followed by textured implants, and smooth implants
About cosmetic surgery in Australia
Of 75,336 patients in the ABDR, 73% were included for cosmetic procedures between 2012 – 2021
In 2021, approximately 67% of implants were smooth, with the proportion of textured implants decreasing significantly since 2018
At six years, around 6% of cosmetic breast implants were revised after insertion, with 3% of revision surgery due to complications
Of the complications associated with revisions and/or explantation, the most common were capsular contracture, device malposition and device rupture
Breast Implant Associated Anaplastic Large Cell Lymphoma (BIA-ALCL) in Australia
The ABDR has received reports of 60 cases of BIA-ALCL including 13 cases from 2021
Diagnoses of BIA-ALCL were made between 3 to 18 years post implant insertion
Acknowledgements
The ABDR team would like to thank:
Australians who enable the ABDR to retain their surgery details to help drive improvements in patient outcomes
Our clinical leads, supporting surgeons, registrars, nursing and administration staff from private and public hospitals and day surgeries that contribute to the registry
The Commonwealth Department of Health for funding this important health initiative
Members of the ABDR Steering Committee
The ABDR is a world-leading clinical quality registry led by Monash University, with the support of Australian Society of Plastic Surgeons (ASPS), Australasian College of Cosmetic Surgery and Medicine (ACCSM), Breast Surgeons of Australia and New Zealand (BreastSurgANZ) and the Therapeutic Goods Administration (TGA).
Read the full report