ISSUE #10 ABDR NEWSLETTER OUT NOW
April 18, 2019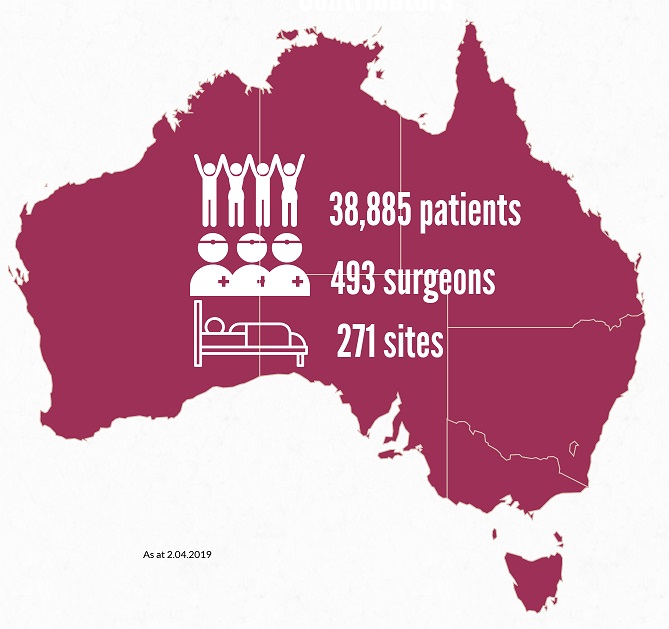 ABDR Newsletter April 2019 #10
Welcome to the tenth issue of the Australian Breast Device Registry (ABDR) Newsletter, keeping you up to date on progress with, and latest news about, this world-first registry.
NATIONAL RECRUITMENT PROGRESS
We've welcomed >3,000 patients to the ABDR since our last e-news! Our sincere thanks to almost 39,000 patients, and 493 Australian surgeons contributing data about their breast device work across >270 sites.  View participating sites here 
Contributing to the ABDR contributes to #patientsafety!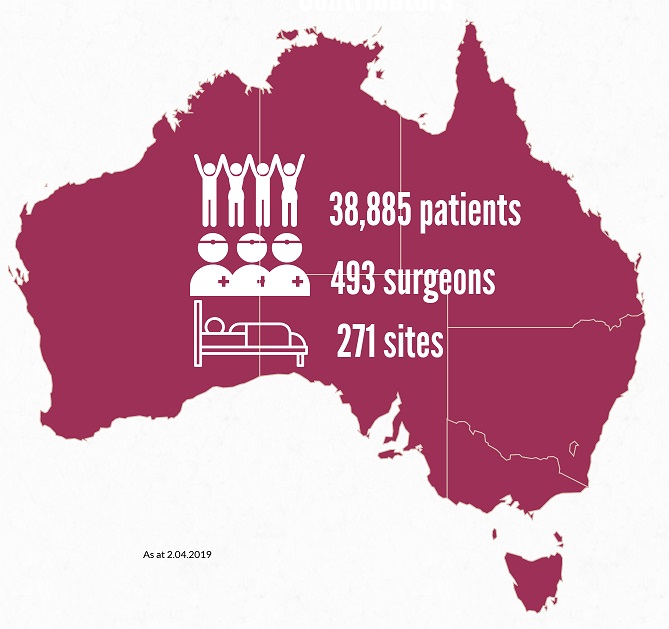 ---
The importance of explant data 
Explant data is critical to learn about the duration and performance of a device following insertion, and to help identify issues associated with their removal.
Information about explant surgeries (with or without a replacement), is recorded in the pink and blue sections of the Data Collection Form (DCF).
Feel free to add hand written notes about the reason for explant surgery.
For any queries about when and how to complete the DCF, please contact your designated ABDR research officer.
Why some patients receive an SMS from the ABDR
The ABDR continues to send via SMS an invitation to registrants to complete a short questionnaire asking about the look and feel of their breasts (including pain) at 1, 2 & 5 years after receiving implants. Responses are included in the Patient Reported Outcome Measures (PROMs) study, providing the registry with important insight into longer term well-being of patients with breast devices.  Read more information about PROMs here. View the ABDR PROMs pilot study paper here.
News in Brief
Regulation of macro-textured breast implants*
On Monday 8th April, the TGA had a meeting with the BIA ALCL expert working group. It comes after an announcement in early April, by French regulator National Agency for the Safety of Medicines & Health Products (ANSM) that macro-textured and polyurethane-coated implants would not be supplied in France, and following advice that Health Canada planned to suspend the licence for Biocell breast implants. Companies will have time to respond to these announcements. Neither agencies recommended preventive explant of these implants.
*Check the TGA website to stay up to date on regulatory developments in Australia.
ABDR PROMs update
Delivery of the short 5-question survey by text message continues to yield the highest rate of PROMs completion, so please make sure to include patient's mobile number in the top left corner of the Data Collection Form (DCF).
ABDR training/in-service webinars
A series of short in-service webinars is planned for later in the year. These online events are a perfect opportunity to bring theatre teams up to date on the registry. If you would like to request a group in-service for your team please email abdr@monash.edu
Recognised contributor to a world-leading breast device registry
Contact abdr@monash.edu to request a copy of the ABDR logo to place on your clinic's website or stationery. There are guidelines for use of the logo so we ask that contributors please advise us before using the logo.
Device Regulation in Australia
The TGA recently released an Action Plan for Medical Devices.
International news
US -The FDA held a General and Plastic Surgery Devices Advisory Committee Meeting on the 25th & 26th March, with webcasts available here.
Ahern S, Hopper I, Loh E. Qualified privilege legislation to support clinician quality assurance: balancing professional and public interests. Med J Aust. 2019 Mar 29. doi: 10.5694/mja2.50124. [Epub ahead of print] No abstract available. PMID: 30924536
Vishwanath S, Ng N, Cooter R, Elder E, Moore C, Pusic A, Hopper I. Establishing patient-reported outcome measures for the Breast Device Registry. ANZ J Surg. 2019 Mar;89(3):266-267. doi: 10.1111/ans.14969. No abstract available. PMID: 30827047
Ng S, Pusic A, Parker E, Vishwanath S, Cooter RD, Elder E, Moore C, McNeil J, Hopper I. Patient-Reported Outcome Measures for Breast Implant Surgery: A Pilot Study. Aesthet Surg J. 2019 Feb 3. pii: sjz023. doi: 10.1093/asj/sjz023. [Epub ahead of print] PMID: 30783646
Hopper I, Parker E, Pellegrini B, Mulvany C, Pase M, Ahern S, Earnest A, Cooter R, Elder E, Moore C, McNeil J on behalf of the ABDR. The Australian Breast Device Registry 2017 Annual Report. Monash University, Department of Epidemiology and Preventive Medicine, December 2018 Report No 2, 52 pages.
ABDR presentations/Events
In February, ABDR Project Co-ordinator Catherine Mulvany was pleased to put faces to names during an in-service presentation to theatre staff at Bendigo Hospital. She later met with a member of the St John of God (Bendigo) Day Surgery team to discuss her experience implementing the registry.
Our thanks to ABDR ASPS trainee representative, Shiv Chopra, who updated colleagues about the registry at the SET (Surgical Education and Training) Registrar Training Conference in Adelaide in March, and to ABDR ACCS trainee representative, Peter Tran, who updated colleagues at Cosmetex in Sydney in April 2019.
ABDR Project Manager, Ingrid Hopper presented at a 'Think Pink' education forum for allied health professions in Melbourne in March.
Our thanks to Prof. Steven Graves, Director of the Australian Orthopaedic Association national Joint Replacement Registry, who shared his experience in registry funding models at an ABDR Industry Day held 1st April.
Upcoming Industry Training Events
MAY/JUNE:
Australian Society of Plastic Surgeons, Plastic Surgery Congress (PSC) 2019 is being held on 30 May – 1 June 2019 at the Melbourne Convention and Exhibition Centre, Victoria, Australia.  View program and registration details 
here
.
AUGUST: BreastSurgANZ Oncoplastic Breast Surgery (OPBS) Level 1 Workshop is being held on Saturday 10 August 2019, Queenstown, New Zealand. View the provisional program, register online and find accommodation details here
___________________________________________________________________________________
To subscribe to ABDR newsletters, please email abdr@monash.edu
We look forward to bringing you the next edition.