ISSUE #16 ABDR NEWSLETTER OUT NOW
November 29, 2021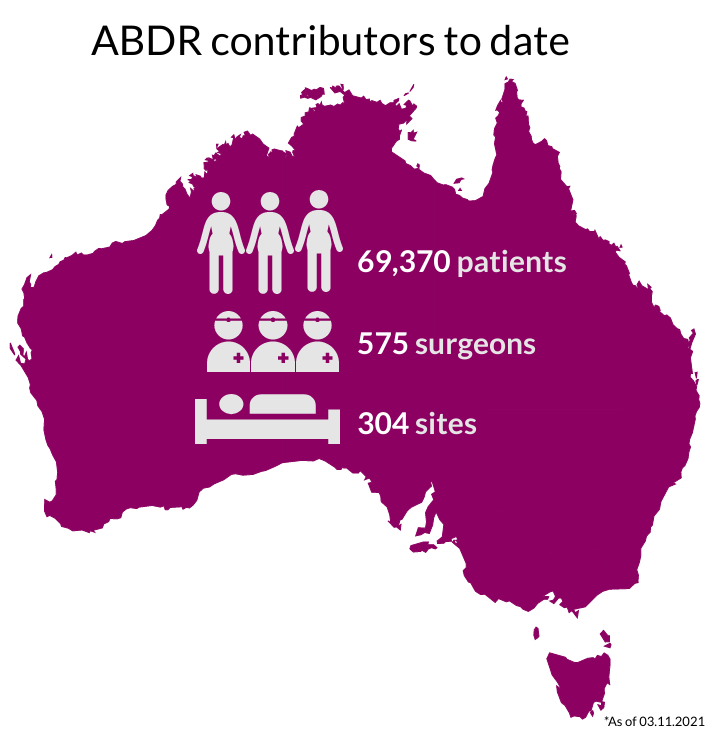 Welcome to the latest Australian Breast Device Registry (ABDR) update. 
National Recruitment
Our sincere thanks go to Australians undergoing breast device surgery, their surgeons, and health care facilities for supporting this important work. The 300+ participating sites are listed here.
Welcome new clinical leads
The entire ABDR team extends our sincere thanks and appreciation to outgoing clinical leads, A/Prof Elisabeth Elder (BreastSurgANZ) and A/Prof Colin Moore (ACCSM), and to our consumer rep, Ms Cindy Schultz-Ferguson, for their strong support and commitment to this world-leading registry over the years. Welcome new craft group clinical leads, Miss Melanie Walker (BreastSurgANZ) and Mr Patrick Tansley (Australasian College of Cosmetic Surgery and Medicine).
A/Prof Gillian Farrell's position as clinical lead representing Australian Society of Plastic Surgeons is unchanged. Gillian has been a clinical lead with the ABDR since replacing Prof Rodney Cooter in late 2018.
Each clinical lead represents a craft group in Australia.  We sincerely thank past and current clinical leads and our consumer representative, for their support and commitment to the registry to improve patient health outcomes.
TGA: medical device patient information
As of 1 December 2021, suppliers of implantable devices are required to provide two forms of patient information materials about the device: Patient Information Card (PIC) and Patient Information Leaflet (PIL), the TGA recently announced.
Presentation
ABDR team member, Randi (pictured), presented 'Patient Reported Outcome Measures (PROMs) after Breast Augmentation – Using the BREAST-Q IS', at the ACTA ASM on 10th November. An update on PROMs for breast augmentation and for breast reconstruction are included in our 2020 annual report, which is currently with the printers.
SMS continues to yield the highest response to an invitation to complete the PROMs questionnaire, which are currently sent to patients at 1, 2, and 5 years following implantation of breast devices.