ISSUE #17 ABDR NEWSLETTER
October 20, 2022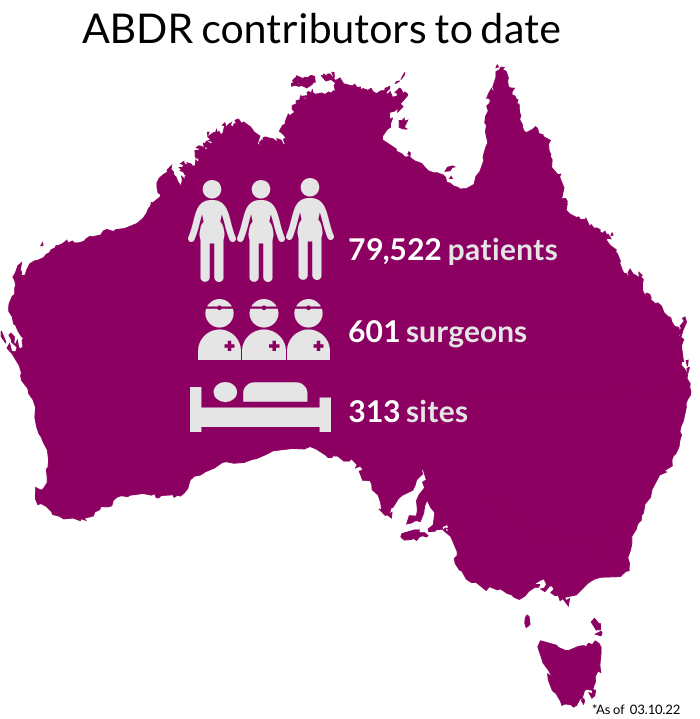 Welcome to the latest Australian Breast Device Registry (ABDR) update. 
National Recruitment
Our sincere thanks go to Australians undergoing breast device surgery, their surgeons, and health care facilities for supporting this important work. The 300+ participating sites are listed here.
TGA safety alert
Australia's Therapeutic Goods Administration (TGA) recently published an alert relating to emerging reports of squamous cell carcinoma and various lymphomas located in the capsule or scar tissue around breast implants. These cancers are different from BIA-ALCL and appear to be extremely rare.
Read the alert (includes symptoms and reporting).  About TGA safety alerts
The US Food and Drug Administration (FDA) issued a safety communication about the cancers earlier this month.
2021 Annual Report progress
Our thanks to representatives from ASPS, ACCSM, BreastSurgANZ, Monash University as well as the TGA and Department of Health for their input and review of the 2021 ABDR annual report.
TGA Unique Device Identification (UDI) project
ABDR Database and Data Linkage Project Manager, Saeid Kalbasi, represents the registry on the TGA UDI Working Group, which is preparing to implement a Unique Device Identification (UDI) to all medical devices, including breast devices.
A UDI system enables traceability of a specific model of medical device implanted in patients and can be linked to other systems, such as registries, with the aim to strengthen patient safety and facilitate a quicker response to any safety issues that may arise with devices.